Have you ever wanted to learn more about successful gardening?
Are you interested in fruits, vegetables, ornamental plants, or lawns?
Do you enjoy helping others?
If you answered "yes" to any of these questions, you may be interested in the Clemson Extension Master Gardener program.
The Master Gardener program is offered to selected home gardeners in South Carolina by the Beaufort County Extension Service.
Students from any South Carolina county are welcome.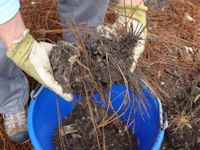 The Master Gardener program, developed by Clemson Extension Services, is a 40-hour curriculum program that includes education and training in topics such as soils and plant nutrition, basic botany, entomology, plant pathology, vegetable and fruit gardening, landscape design and plant selection. The program consists of approximately 14 classes and two field trips. At the conclusion of this rigorous course of study, participants must serve a 40-hour internship of service and education, after which they become a Clemson Extension Master Gardener.
Clemson also offers the Master Gardener course on-line. For more information, see http://www.clemson.edu/extension/mg/.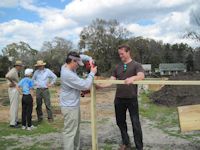 The purpose of the Master Gardener program is to educate the public about good and effective horticulture and environmental practices through projects located throughout the community. Examples of projects are demonstration gardens, farmers market booths, lecture programs, educational programs for youth, and home visits through the Rent-A-Master Gardener program. See our "Activities Page" for the projects in Beaufort, Bluffton and on Hilton Head. Volunteer activities provide Master Gardeners with opportunities to broaden their knowledge, develop new skills, exchange program ideas, and forge new friendships.
Graduates of the Master Gardener training are invited to join the Lowcountry Master Gardeners Association, a non-profit organization that provides continuing education for Master Gardeners and provides support for Master Gardener projects throughout Beaufort, Colleton and Jasper counties.
Instructions for the payment of the $300.00 tuition will be sent to you after you have completed and mailed the application. Limited scholarship funds are available to assist with tuition.
Training cost is $300 which includes all materials
Hilton Head 2021 Class  August 31st to November 9th
Click here for more information and application
| | | |
| --- | --- | --- |
| For more information, please contact Laura Lee Rose at 843 812 3490 | | |