2022 Lunch and Learn Begins April 2nd.
Noon at Heritage Park – Port Royal Farmers' Market
Under the Live Oak Tree Near the Gazebo! 
April 2, 2022          Getting Ready for Spring                  Jay Weidner                     It's finally here, and our gardens need a spring housecleaning!
April 9, 2022           Shady Ladies…and Gents             Laura Lee Rose                  Gardening in the shade need not be dull.
April 16, 2022         Beautiful, Prolific Annuals            Wendy Hilti                        The unsung heroes of the garden.
April 30, 2022         Pollinators and Their Hosts         Kathleen Grewenig        Without them, humankind wouldn't exist…so be kind.
May 7, 2022             Flowering Shrubs                             Sandra Educate                The easy way for color in your garden.
May 14, 2022          Plant Propagation                             Joe Allard                            Free plants from your own garden.
May 21, 2022           Ornamental Grasses                        Natalie Bowie                    More new introductions every year.
May 28,2022            Some Like it Hot                                Jay Weidner                       Plants that thrive in our summer climate.
June 4, 2022             Birds 'n Bees                                      Buddy Campbell             Things your parents never told you.
June 11, 2022           Lowcountry Herb Gardening     Victoria Bergesen            Information AND treats!
June 18, 2022           Yes, We do Have Bananas           Sandra Educate                 Feed them and they'll feed you.
June 25, 2022            Keeping it Growing                        Amanda McNulty            Yea!  She's back!  People with a funny hat get in free!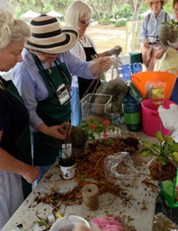 The park at the Port Royal Farmers' Market  is happy to announce that it will again host a series of classes, lectures and workshops about gardening in this unique climate.
Since the gazebo would not allow for social distancing, Lunch and Learn will be held  where we first started,–under the live oak tree at Heritage Park. The classes are free,–just show up at the gazebo at noon with a folding chair.  No registration is necessary.
Since 2010, the project's producer, Sandra Educate, has enlisted a very talented group of presenters to talk and instruct about the challenges of gardening in Beaufort County.  "We have professionals and talented Master Gardeners giving educational and entertaining classes.  Audience participation is encouraged and we always have wonderful door prizes of plants and books donated by the presenters and attendees.  Some of the plants donated are daughters and granddaughters of plants won as door prizes at previous Lunch and Learns!", Sandra reports. "Lunch and Learn has become an institution here in Beaufort and we're so glad to be able to continue it".
Winning an international Master Gardener

award inspired us to expand the program even further.
The Lunch and Learn classes are held under the Live Oak Tree at the Farmers' Market, Heritage Park, Port Royal. Classes begin at 12:00 noon. Classes are free. Just bring a folding chair.  No registration is necessary.
Past Lecture Information Sheets
Fact Sheets from April 13, 2019 Lunch and Learn Presentation by Jenny Staton:
Herb Concentrates
Salvia-_-Home-Garden-Information-Center.pdf
Salvias_-Beautiful-Additions-to-Garden-Landscapes
HGIC Fact Sheet on Herbs
Here are the directions to the Port Royal Farmers' Market.