2023 Lunch and Learn Begins in April
Noon at Heritage Park – Port Royal Farmers' Market
Under the Live Oak Tree Near the Gazebo! 
                                              Schedule for 2023 to be announced soon!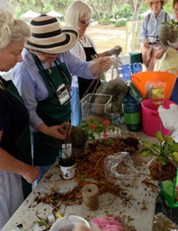 The park at the Port Royal Farmers' Market  is happy to announce that it will again host a series of classes, lectures and workshops about gardening in this unique climate.
Since the gazebo would not allow for social distancing, Lunch and Learn will be held  where we first started,–under the live oak tree at Heritage Park. The classes are free,–just show up at the gazebo at noon with a folding chair.  No registration is necessary.
Since 2010, the project's producer, Sandra Educate, has enlisted a very talented group of presenters to talk and instruct about the challenges of gardening in Beaufort County.  "We have professionals and talented Master Gardeners giving educational and entertaining classes.  Audience participation is encouraged and we always have wonderful door prizes of plants and books donated by the presenters and attendees.  Some of the plants donated are daughters and granddaughters of plants won as door prizes at previous Lunch and Learns!", Sandra reports. "Lunch and Learn has become an institution here in Beaufort and we're so glad to be able to continue it".
Winning an international Master Gardener

award inspired us to expand the program even further.
The Lunch and Learn classes are held under the Live Oak Tree at the Farmers' Market, Heritage Park, Port Royal. Classes begin at 12:00 noon. Classes are free. Just bring a folding chair.  No registration is necessary.
Past Lecture Information Sheets
Fact Sheets from April 13, 2019 Lunch and Learn Presentation by Jenny Staton:
Herb Concentrates
Salvia-_-Home-Garden-Information-Center.pdf
Salvias_-Beautiful-Additions-to-Garden-Landscapes
HGIC Fact Sheet on Herbs
Here are the directions to the Port Royal Farmers' Market.