Are you new to the area and find Lowcountry gardening a mystery? Do you have gardening problems you can't solve, plants you can't identify? The Lowcountry Master Gardener Association can help through its Rent-a-Master Gardener program.
For a $75.00 fee, a team of Clemson University-certified Master Gardeners will visit your home. The team will walk your property with you,  ask questions, answer  questions, identify plants, make plant suggestions, and provide guidance on good gardening practices and plant selection.  Approximately two weeks after the visit, you will receive a detailed report prepared by the team containing the team's observations and recommendations.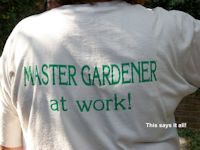 The team will leave with you instructions on how to take a soil sample and have it analyzed by Clemson's Agricultural Lab. This fee is $6.00, payable at the time the sample is submitted to the Beaufort County Extension Office at 17 John Galt Rd, Beaufort, SC 29906.  Plant diseases and pest ID services are also available at an additional charge.
The mission of the Lowcountry Master Gardeners Association is to promote and teach environmentally sound, research-based gardening practices to our neighbors. We are  pleased to be able to offer this service. The feedback from homeowners has been very positive, as evidenced by the number of referrals we receive each year.
Homeowners might also find Clemson's Home and Garden Information Center website useful in answering some of their gardening questions. The website contains hundreds of fact sheets on gardening issues and plants. See http://hgic.clemson.edu.
Proceeds from this program are used to fund  the Association's  educational and civic beautification projects, as well as provide horticultural scholarships to students at Clemson University .
If you wish to schedule a visit, please contact one of the RMG Leaders for your area.
Beaufort:
Lisa Holt
(978) 417-9348
Bluffton/Okatie
Bette Warfield
(843) 987-0170
Hilton Head:
Sharon Ryan
(843) 715-4096