Lowcountry Master Gardener Association Membership

For  Members and Interns of the Lowcountry Master Gardener Association
Board of Directors
President – Betty Heath-Camp
Email: heathb@vt.edu
Past President – Bette Warfield
Email: betwarfield@gmail.com
Vice President – Barbara Duffy-Lindblad
Email:  barbdlind@gmail.com
Recording Secretary
Mary Campbell
Email: maryhcampbell@comcast.net

Corresponding Secretary
Sandra Educate
Email: Silkroad@embarqmail.com
Treasurer – Susan Harden
Email: yoteus@embarqmail.com
CES Advisor – Laura Lee Rose
Email: lrose@clemson.edu
Members at Large:
Joe Allard
Email: burnbeforereading@earthlink.net
Bill Moss
Email:  billmosshhi@gmail.com
George Westerfield
Email: wester@hargray.com
Area Coordinators:
Beaufort – Sheila Drouin
Email: sheiladrouin@islc.net
Bluffton – James Lyons
Email: Lyonsjames61@yahoo.com
Hilton Head – Myrna Horn
Email:  horn@hargray.com
Newsletter – Jenny Staton
Email: treefrogfen@gmail.com
Website Admin – Sandra Educate
Email: silkroad@embarqmail.com
Clemson Extension Office
18 John Galt Circle
Beaufort, South Carolina
843 473 6025 
CONTENT
Find information on how to become involved in the many volunteer opportunities your Board arranges for your enjoyment and education.
Register for limited registration activities. Once registered, you'll be able to see who else is coming and perhaps arrange to car pool.
Find information about ongoing volunteer opportunities: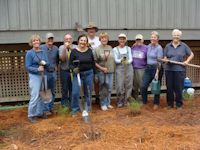 Click here to find out how to log your volunteer hours on the Clemson website.