Lowcountry Master Gardener Association Membership

For  Members and Interns of the Lowcountry Master Gardener Association
Find information on how to become involved in the many volunteer opportunities your Board arranges for your enjoyment and education.
Register for limited registration activities. Once registered, you'll be able to see who else is coming and perhaps arrange to car pool.
Find information about ongoing volunteer opportunities: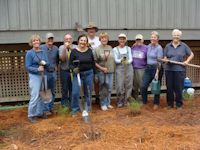 Click here to find out how to log your volunteer hours on the Clemson website.